Sandra Day O'Connor: A Life of Action
by Meryl Justin Chertoff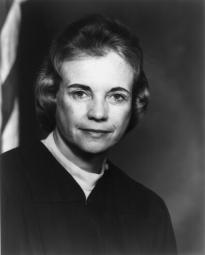 Sandra Day O'Connor still has a lot of work to do. The first woman on the United States Supreme Court who recently described herself as "a retired cowgirl" continues to break new ground as an advocate for judicial independence and better civic education. Her independent spirit can be traced back to her life's beginning on a working ranch in Arizona, and spans decades of public service.
Early Years
The basic facts of Justice O'Connor's biography have been recounted both by herself and others, notably in the moving memoir Lazy B, an account of her early years. Born March 26, 1930, in El Paso, Texas, she was the first child of Ada Mae and Harry Day. Ada Mae had left the Lazy B Ranch and her husband of three years to give birth to the couple's first child near her own mother's home and a city hospital. Mother and daughter returned to the semi-arid high desert plateau region on the New Mexico–Arizona border, along the Gila River, just as the Depression took hold.What was it like growing up on the ranch with her parents and younger brother and sister? Said O'Connor: "we were isolated. We had no neighbors, really. It was thirty-five miles to town. We would go to town once a week to get the mail and some groceries. And the people at the ranch, in my early years, were my parents and the cowboys who worked there."[1]
The key to survival of the ranch, its people and its livestock, she writes, was
Rain . . . our life's blood . . . we would watch with wonder the changed world about us. The dry, dusty soil was wet, muddy, brown rivulets of water running down every slope and gully—the grass and plants sparkling with drops of water clinging to them—the greasewood bushes normally so gray-green and dull, releasing their incredible perfume, produced by the rain on their dense, oily leaves. The birds chirping frantically, the rabbits peeking out from their burrows. Everything stirring and excited from the rain, and no one more excited than my father. We were saved again—saved from the ever-present threat of drought, of starving cattle, of anxious creditors.[2]
As she portrays them in her biography, O'Connor's father, Harry Day, was a tough, self-reliant, domineering figure. Her mother was a self-possessed lady, who dressed with style and inculcated in young Sandra a love of books and music. Her parents loved ranch life but kept an eye on the wider world, too. Sandra grew up as a friend of cowboys, but she was sent to El Paso for high school, to a more refined milieu than the ranch.
After graduating high school in 1946, Sandra Day attended Stanford College and Law School. A classmate in law school was fellow Arizonan William Rehnquist, who became a lifelong friend, and would, as Chief Justice of the United States Supreme Court, be O'Connor's trusted colleague. It was during her time at Stanford Law School as well, that Sandra Day met another classmate, John O'Connor, the son of a San Francisco physician. The two were married a few days before Christmas in 1952 at the Lazy B.
Public Service
The new law school graduate, a member of the law review and in the top ten percent of her graduating class, could find no work as an attorney. The 1950s were not an easy time for women to be attorneys. One prominent San Francisco firm, after refusing to hire her as an attorney, offered Sandra Day O'Connor a job as a legal secretary.
Government law offices proved more welcoming than corporate law firms. O'Connor's first job after law school had her handling civil cases in the San Mateo County, California, attorney's office. When her husband was drafted into the army in 1953, O'Connor accompanied him to his post in Germany, and worked as a civilian attorney in the United States Quartermasters Corps. Upon her return to the States, again, her path was more rough-and-tumble than that of many Stanford classmates—she and a fellow attorney set up a two-person practice in a shopping center in Phoenix. They took any case they could get, mostly small matters like contracts, leases, divorces, and criminal cases in the local courts.
After giving birth to two sons, O'Connor gave up practicing law for five years to stay home and raise her boys, who soon numbered three. Her involvement in public life hardly ceased, though. She was active in Republican politics and president of the Phoenix Junior League, and made her home a hub of Phoenix social life at a time that the city was booming. Her network of contacts in Arizona politics helped her land a position as an assistant attorney general for the state, and in 1969 she made the leap into a major political appointment—filling the unexpired term of Isabel Burgess, an Arizona state senator who had been appointed to the National Transportation Safety Board by newly elected President Richard Nixon.
O'Connor was quite successful as a state legislator. She won election to the seat she had been appointed to, and sat on a series of powerful committees. She had a knack for bringing people together across party lines, and forging practical solutions. In addition to legislation to secure equal pay for equal work, and better opportunities for Arizona women, one of her many accomplishments in this time was moving legislation through the Arizona legislature that made Arizona a state that uses the "merit selection" system to select its judges, rather than partisan elections. The system is widely credited with improving the quality of the Arizona judiciary, a court that now, it might be noted, is led by Chief Justice Ruth V. McGregor—Justice Sandra Day O'Connor's first law clerk.
The High Court
By the time Ronald Reagan made the momentous choice to appoint O'Connor to the High Court in 1981, she had been an appellate court judge in Arizona for about two years. She and Reagan shared the independent spirit of Westerners, and were both optimistic and plain in their speech. While Reagan left their White House meeting on July 1, 1981, determined that O'Connor's name would appear on his "short list" for Supreme Court Justice, O'Connor left the meeting confident that she would never be asked to serve, and she "breathed a sigh of relief and came home."[3] Her modesty was misplaced. O'Connor became President Reagan's choice to replace Potter Stewart on the Court.
On September 25, 1981, the country witnessed the swearing-in of the first woman ever to become an Associate Justice of the Supreme Court. In the years that followed, feminists expected O'Connor to fulfill their agenda on a spectrum of issues; conservatives expected that as a Reagan appointee she would cleave to a conservative social agenda. Both groups were disappointed—O'Connor has been unfailingly independent in adhering to her own view of the rule of law and the Constitution. She has defied categorization as leaning right or left in any sense in her years on the Supreme Court, frustrating social activists on both sides of issues such as affirmative action and abortion.
As a former state legislator, O'Connor was persuasive with colleagues, and good at steering the court to consensus. Her jurisprudence shows a marked pragmatism. Was her perspective as the first woman appointee unique? As O'Connor herself has put it:
In the exercise of my power as a Justice of the Supreme Court, there are institutional constraints that strictly limit what I can do. Concerns for the integrity of the Court, the operation of the collective decision-making process, and most important, the law itself—as embodied in the Constitution, congressional statutes and the Court's prior case law—exert an influence on my actions far greater than any uniquely feminine perspective I might bring . . . I might add that I work with eight very strong-willed colleagues. I don't think any of us exerts much power over the others . . . my power on the Court depends on the strength of my arguments, not on my gender.[4]
And the power of those arguments continues, even after her 2006 retirement from the Court. Her departure was precipitated by her beloved husband John's battle with Alzheimer's disease. As she puts it, her husband "needed some care and attention" that she could not provide from Washington, DC. But O'Connor's retirement has been anything but quiet. She has become a vigorous advocate of improved civic education for young people, and speaks out for judicial independence both in the US and in the developing world. She continues to seek practical nonpartisan solutions to problems and to stand up for what she believes. Her travel and speaking schedule would quickly tire out a person half her age. But Justice O'Connor keeps on going. Everywhere she goes, it seems, there is a thirst for her simple words and her passionate advocacy of her pragmatic message. She has inspired a generation of women lawyers and judges, but she refuses to be cabined by the label of feminist. The daughter of the Lazy B remains an independent thinker who speaks her mind.
---
[1] PBS Newshour interview, February 1, 2002.
[2] Sandra Day O'Connor and H. Alan Day, Lazy B (New York: Random House, 2002), 131–132.
[3] Interview with O'Connor on KAET Horizons television program, November 27, 2002.
[4] Sandra Day O'Connor, The Majesty of the Law (New York: Random House, 2003), 195.
---
Meryl Justin Chertoff is the director of The Aspen Institute's Justice and Society Program and an adjunct professor of law at Georgetown Law. From 2006 to 2009 she was the director of the Sandra Day O'Connor Project on the State of the Judiciary at Georgetown.
---
Suggested Sources
Books and Printed Materials
A full-length biography of Justice O'Connor:
Biskupic, Joan. Sandra Day O'Connor: How the First Woman on the Supreme Court Became its Most Influential Justice. New York: Harper, 2005.
Two briefer studies:
Maveety, Nancy. Justice Sandra Day O'Connor: Strategist on the Supreme Court. Lanham, MD: Rowman & Littlefield, 1996.
McFeatters, Ann Carey. Sandra Day O'Connor: Justice in the Balance. Albuquerque: University of New Mexico Press, 2005.
Two memoirs by Justice O'Connor:
O'Connor, Sandra. Lazy B. New York: Random House, 2002.
O'Connor, Sandra. The Majesty of the Law. New York: Random House, 2004.
More about Justice O'Connor's home state of Arizona when she was growing up on the Lazy B:
Melton, Brad, and Dean Smith, eds. Arizona Goes to War: The Home Front and the Front Lines during World War II. Tucson: University of Arizona Press, 2003.
On the history of the nation's female lawyers:
Drachman, Virginia G. Sisters in Law: Women Lawyers in Modern America. Cambridge, MA: Harvard University Press, 1998.
Morello, Karen. The Invisible Bar: The Woman Lawyer in America, 1638 to the Present. New York: Random House, 1986.
Background on Arizona politics and government in the decades when Sandra O'Connor began her career in public service:
Iverson, Peter. Barry Goldwater: Native Arizonan. Norman: University of Oklahoma Press, 1997.
Smith, Zachary A., ed. Politics and Public Policy in Arizona. Westport, CT: Praeger, 1996.
On the Supreme Court during the tenures of Chief Justice Burger and Chief Justice Rehnquist:
Belsky, Martin H., ed. The Rehnquist Court: A Retrospective. New York: Oxford University Press, 2002.
Gottlieb, Stephen E. Morality Imposed: The Rehnquist Court and Liberty in America. New York: New York University Press, 2000.
Keck, Thomas Moylan. The Most Activist Supreme Court in History: The Road to Modern Judicial Conservatism. Chicago: University of Chicago Press, 2004.
Maltz, Earl M. The Chief Justiceship of Warren Burger, 1969–1986. Columbia: University of South Carolina Press, 2000.
Maltz, Earl M., ed. Rehnquist Justice: Understanding the Court Dynamic. Lawrence: University Press of Kansas, 2003.
Tushnet, Mark V. A Court Divided: The Rehnquist Court and the Future of Constitutional Law. New York: Norton, 2005.
Yarbrough, Tinsley E. The Burger Court: Justices, Rulings, and Legacy. Santa Barbara, CA: ABC-CLIO, 2000.
Yarbrough, Tinsley E. The Rehnquist Court and the Constitution. New York: Oxford University Press, 2000.
For younger readers:
McElroy, Lisa Tucker (in collaboration with the Justice's granddaughter, Courtney O'Connor). Meet My Grandmother: She's a Supreme Court Justice. Brookfield, CT: Milbrook Press, 1999.
O'Connor, Sandra Day. Chico. New York: Dutton, 2005. [A children's book relating a childhood adventure involving her pony, a newborn calf, and a rattlesnake.]
Internet Resources
Justice O'Connor's Supreme Court career spanned the Chief Justiceships of two jurists: Warren Burger and William Rehnquist. The Supreme Court Historical Society's "History of the Court" is a starting point for studying both periods:
http://www.supremecourthistory.org/history-of-the-court/chief-justices/warren-burger-1969-1986/
http://www.supremecourthistory.org/history-of-the-court/chief-justices/william-rehnquist-1986-2005/
Make Gilder Lehrman your Home for History
---
Already have an account?
Please click here to login and access this page.
How to subscribe
Click here to get a free subscription if you are a K-12 educator or student, and here for more information on the Affiliate School Program, which provides even more benefits.
Otherwise, click here for information on a paid subscription for those who are not K-12 educators or students.
Make Gilder Lehrman your Home for History
---
Become an Affiliate School to have free access to the Gilder Lehrman site and all its features.
Click here to start your Affiliate School application today! You will have free access while your application is being processed.
Individual K-12 educators and students can also get a free subscription to the site by making a site account with a school-affiliated email address. Click here to do so now!
Make Gilder Lehrman your Home for History
---
Why Gilder Lehrman?
Your subscription grants you access to archives of rare historical documents, lectures by top historians, and a wealth of original historical material, while also helping to support history education in schools nationwide. Click here to see the kinds of historical resources to which you'll have access and here to read more about the Institute's educational programs.
Individual subscription: $25
Click here to sign up for an individual subscription to the Gilder Lehrman site.
Make Gilder Lehrman your Home for History
---
Upgrade your Account
We're sorry, but it looks as though you do not have access to the full Gilder Lehrman site.
All K-12 educators receive free subscriptions to the Gilder Lehrman site, and our Affiliate School members gain even more benefits!
Metadata